Portable Storage Security
Portable Storage Security Features
Our secure portable storage units help keep your valuable assets safe while in transit and in storage. They are licensed and registered with the State of Wisconsin. When parked, they are equipped with coupler locks and wheel boot locks to prevent them from being moved.
These moving storage pods are constructed from 030-gauge aluminum. They're designed to provide only one access point – the rear door – that doubles as an access ramp. The ceilings of these units are insulated and the roofs do not have any seams, helping them remain watertight. They are also ventilated to allow air to circulate while keeping your belongings dry.
Each space comes with two steel hasps where you can attach your padlocks. You lock the unit and only you have the keys. For your convenience, Self Storage on Wheels also sells padlocks onsite.
Learn more about the equipment we utilize at our storage facilities: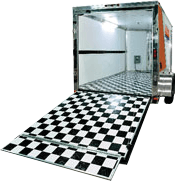 C-970-2-CD-KA Chateau 2-3/4" Industry Disc Lock (Twin Pack)

Two locks keyed alike with four keys
Anti-pick mushroom picks with 6 PIN solid brass tumbler
Made of stainless steel so that it's impervious to rust or corrosion
Hidden, hardened, double locking, and chromed steel shackle
Wheel Lock

Placed over one of the back 15" wheels
Prevents our trailers from rolling away
Coupler Lock

Fits over ball opening in the trailer couple
Prevents thieves from attaching the unit to a tow vehicle