Portable Storage Units in New Berlin, WI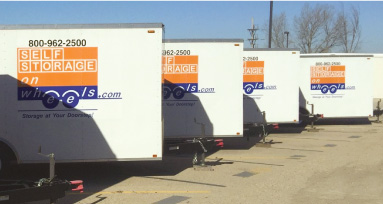 For the lowest prices on portable storage in Wisconsin, Self Storage on Wheels is your solution. Our units in New Berlin are clean, secure, affordable. Self Storage on Wheels is the low price portable storage leader! No matter what you choose to store in your mobile unit, you can rest assured that we work our hardest to protect it! If that weren't enough, we guarantee the lowest rates in the area. You'll always get a good deal when you work with our helpful team of storage professionals.
Portable Storage Pod Sizes in Brookfield, WI
Choose the size of the storage pod you need. The table below will provide a rough idea of the space you will require.
Medium
7'X14′ = 98 SQ.FT.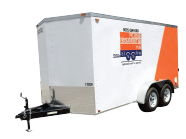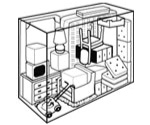 1-2 Rooms
Will hold the contents of a 1-2 bedroom (1,200-1,600 sq. ft.) home
Large
8'X18′ = 153 SQ.FT.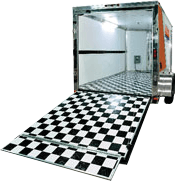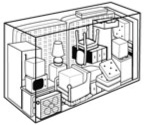 2-3 Rooms
Will hold the contents of a 2-3 bedroom (1,600-2,000 sq. ft.) home
Extra Large
8.5'X24′ = 204 SQ.FT.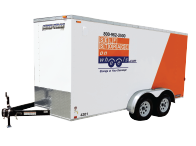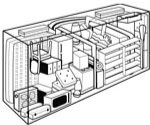 3-5 Rooms
Will hold the contents of a 3-5 bedroom (2,000+ sq. ft.) home
Map & Directions
Mobile Storage Container Delivery around New Berlin, WI
Do you live outside the New Berlin city limits? No problem! We serve a long list of communities near New Berlin, including: Milwaukee, Brookfield, Franklin, Racine, Kenosha, Muskego, Racine, Mount Pleasant, Menomonee Falls, Pewaukee, Shorewood, Sussex, Oak Creek, South Milwaukee, Sturtevant, Greenfield, Greendale, Shorewood, and Whitefish Bay. We're willing to go the extra mile to deliver an affordable moving pod right to your door.
Hours
Mon-Fri: 9am - 4pm
Sat: Closed (transports only)
Sun: Closed
Admin/Dispatch Office
Self Storage on Wheels
2465 S 170th Street, Suite 201
New Berlin, WI 53151